What a fantastic timing Naty had! Every year we are spending our summer in Croatia in a village close to Iva's hometown. We basically meet up each day then. During the start of our holidays Naty was highly pregnant and then she gave birth. We could be there during delivery, could assist the birth and could watch these four little puppies growing in their first few weeks.What a privilege!
It would not have been Naty herself, if not even her birth would have been adventurous: She started panthing pretty early in labour, but then decided to keep them inside for another two days. We were watching her closely to start every minute and then, when we should have actually already left for Split shows, she started. Luckily Iva's brother and Mak drove to build up everything for the shows, so Iva and me could stay. What a wonderful experience that was and for me. -Also it was the first time I was truly helping a puppy to come out, since it was pretty big… On July 22, 2021 we welcomed 2 girls and 2 boys!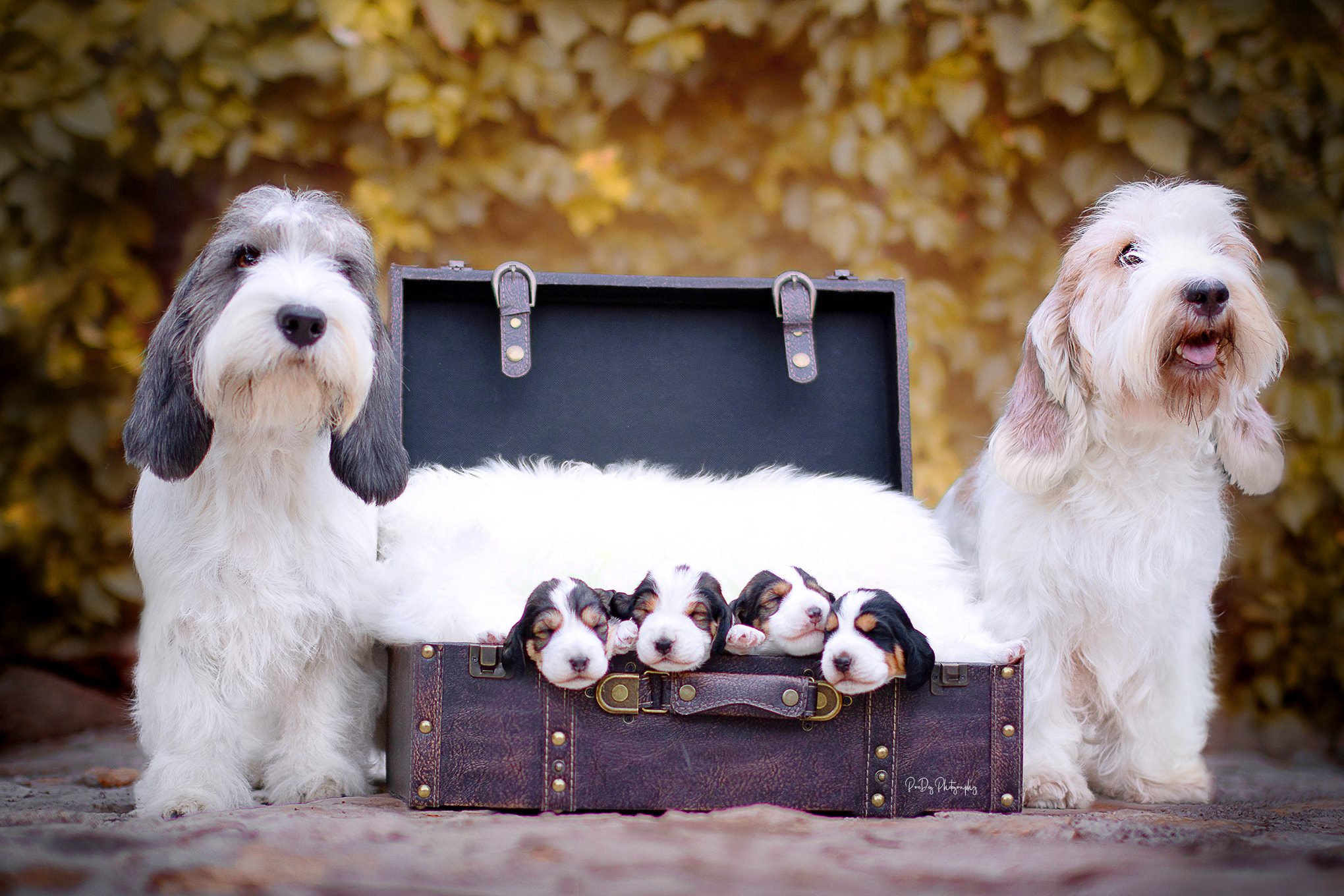 This litter is done in cooperation with "Black Majesty" (Miss Iva Raic) kennel in Croatia, where the puppies are born and raised as well! They will have HKS (Croatian KC, member of FCI) pedigrees and will carry the prefix "Black Majesty".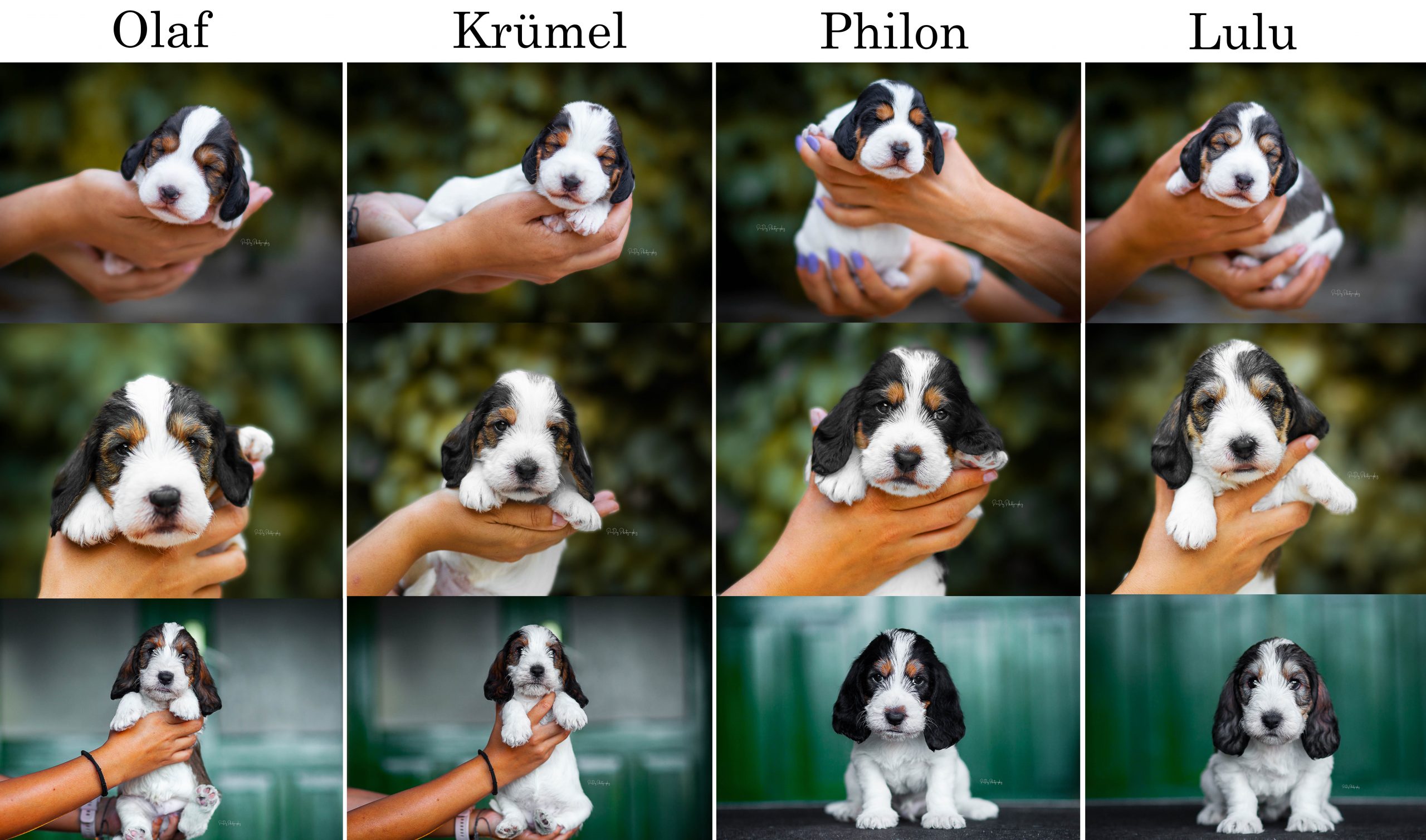 We are very happy that these puppies have found fantastic homes:
– Black Majesty Sit Still Look Pretty "Krümel", Austria
– Black Majesty Snack Time "Philon", Germany
– Black Majesty Sh, You Dont Own Me "Olaf", Germany
– Black Majesty She's Luvd Not Spoiled "Lulu", Mallorca
DAM – JBIS INTCh Ch JCh Black Majesty Reggaeton Lento "Naty"
Naty is our gorgeous small but strong girl and full type: short muzzle, short tail, short ears. She is a compact bitch with a wonderful movement. Short after she could have competed outside of junior class, we were hit by the pandemic, which led to Naty not being shown a lot. Despite all that she is a Junior Best In Show winner, has closed multiple championships and was Top PBGV in Austria in 2019. Every group- or breedspecialist that has put his or her hands onto this bitch, was very impressed. Naty is a sassy and outgoing little dog that loves to snack. Because she is so very charismatic, we have been inspired and named all her 4 puppies after her. Naty is tested POAG clear and has sucessfully passed her natural ability testing in Croatia. Find out more about Naty <here>.

SIRE – JCh Black Majesty Name The Game "Pudding"
Pudding is out of the stunning litter of Elliott (BIS JBIS Ch Around Double Magic) and our dear Evita (JBISS BBIS CIB CIE Mulit CH Black Majesty Griotte). Despite not having the possibility to show him a lot, he has left us speachless already: He was placed on Best In Show podiums immediately, even at big shows like Split and took the group multiple times. Pudding is a boy in the correct format that can cover the ground easily. He is a wonderful companion and has a great will to please. He is tested as POAG carrier.

We are happy about strong and healthy puppies!